Lavender Grill and Lounge is a renowned bar and grill in Ottawa, known for its exceptional dining experiences and commitment to quality. As their trusted digital marketing agency, we had the privilege of partnering with Lavender Grill and Lounge to enhance their digital presence and support their business growth.
Lavender Grill and Lounge sought to work with a focused digital marketing agency that could handle all aspects of their digital presence. They aimed to streamline their marketing efforts, receive expert guidance on their interior design, establish a strong online brand identity, and effectively engage with their target audience across various digital platforms.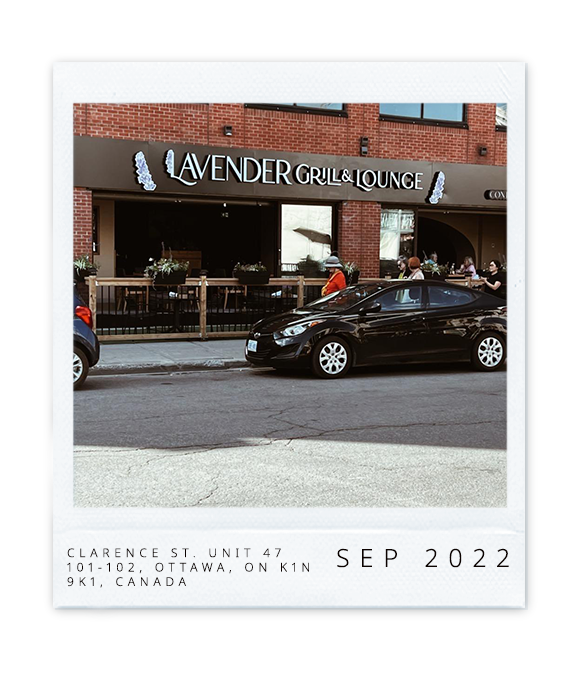 By serving as their dedicated digital marketing agency and interior design consultant, we provided Lavender Grill and Lounge with a comprehensive solution for their digital presence and physical space.
Building upon the insights gained from the interior design consultation, we embarked on developing a comprehensive brand identity for Lavender Grill and Lounge. Through extensive collaboration, we refined their visual elements, created a cohesive brand voice, and ensured consistency across all marketing collateral. Our team crafted a distinct brand identity that accurately reflected the unique dining experiences, ambiance, and values of Lavender Grill and Lounge. The refined brand identity set the foundation for their digital presence,
To maximize Lavender Grill and Lounge's online visibility and engagement, we developed a robust social media management strategy. Our team created engaging content and visuals that showcased the exquisite menu offerings, inviting ambiance, and exceptional dining experiences at Lavender Grill and Lounge. We cultivated an active and loyal following through targeted social media campaigns, regular interaction, and community engagement, fostering meaningful connections with their audience and promoting customer loyalty.